---
A Consumer's Guide to Cemeteries
and Funerals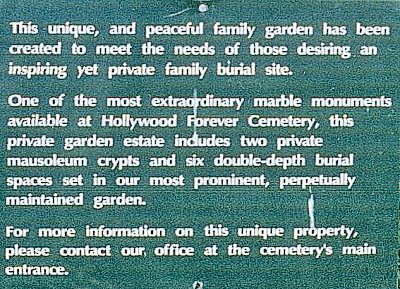 Consumer Warning: The tables and advice contained in this section were true to the best of my knowledge in February 2001. State laws change, sometimes for the better, sometimes for the worse. The reader should also be aware that my law summaries are sketchy in many regards. For the final word on what you can do, consult a lawyer, your state funeral board, or local public health officials.
@ indicates that there are updates/followups

I love to hear your questions and stories about your cemetery experiences:
Questions or Comments?


Photo: Hollywood Forever Cemetery, Los Angeles, California
Copyright 2000 by Joel GAzis-SAx